I'm back with
another
poll. Aren't you excited? haha
This time, I'd like to understand why the number of participating members has dropped. There can be a big number of understandable and personal (therefore, I made the poll private) reasons, but the fault can also be ours. So help us try to turn dorks4you around! Vote on the poll, so I can understand what's wrong with our community.
Have you taken part of, at least, 4 of our 8 exchanges?
If your answer was NO, why?
Because I wasn't a member since the beginning
Because I wasn't interested in most of the themes
Because I had a bad exchange experience and lost interest
Because I couldn't afford it
Other reason (please state in the comments)
If you can/want to participate in our 9th exchange, which theme would you prefer?
I'm a dork and I love it!
Concerning exchange #9, I took ideas from past exchanges that weren't used yet and seem interesting. There's a little comment about every theme, so
check the paragraphs below before voting
:
Childhood
: sailor moon stickers, your favourite candy, colouring books, even old photographs is fair game :D The point is so share the things that made you happy growing up and, in some way, shaped your personality.
Senses
: This one is quite intuitive. Just put one or two things that stimulate each of the senses: sight, feel, hearing, smell and taste. It can be candles, a beautiful flower, a good CD, chocolate, a picture of your celebrity crush...
Box size
: Do you like cereals? Captain Crunch? Chocapic? That could be a very international box size. But that's just an example. We'll probably have to make another poll to choose what exactly we're gonna consider an equal box size. But as far as this is concerned, everyone gets the same sized box with pretty gifts! Yay!
I'm a dork and I love it!
: Yes you do, don't deny it! Pop Culture and the likes. Ever watched Gilmore Girls? You haven't? :O Go do it now then! Shame on you. But seriously, if you ever watched the show you'll have PLENTY of references for this theme. (also available in such shows as
The Big Bang Theory
. just sayin') It's a ~*~POP CULTURE~*~ thing. Books, music, movies... Pimp your favourite things; share the love. We won't care if it's the love for Paul Anka. Just show & share. (BTW, the theme does not in ANY way have to include a Gilmore Girls reference or anything like that. There are so many types of geekness. Games, TV, Music, Comics, Books, etc, etc, etc.)
And finally, how does everyone like the new layout? You guys picked this one and I honestly thought it was a good choice. But now that it's up, I'm not sure it fits us right.
Hi everyone,
Current Mood:

bouncy

Current Music:

almost lover ~ a fine frenzy
Current Mood:

energetic
moons_creations
, I decided to take care of this community. It's been one of my favourite places on LJ (and I've been here for a while), so I was too sad to let it go. I'm stepping up as maintainer, so if you get a weird message on your LJ account sent by me about your address or something, don't freak out and assume I'm a pervert. I'm just trying to get all the information right! haha
The first thing I'd like to talk to you all about is a new layout. Maybe it's the change the community needs to get more members. I'll also try to come up with a default icon with our name and update the profile page. Anyone who wants to help me out with those things, please, feel free to send me a LJ message or e-mail at dorks4you@gmail.com.
Which layout should we chose in this community?
we should stick to the one we have
we should pick another one (comment with the link to its post)
Anyway, please vote on this poll with your choice of layout. I'd help a lot, as I'm trying to make this layout as appealing as I can to the biggest number of people possible. Which reminds me...
pimping out our community in your livejournal is not only a great way to get new members but also to get trustworthy people on board
, as I'm assuming you, more or less, trust people you are friends with here. It's a possible great boast to our member count if all the current members
and watchers
pimp it out to their friends.
That's about it for now. I'll be contacting people who didn't receive their package in the last exchange or didn't send it out. The rules will probably get a little more tight: there will be
no
tolerance to people who don't send out their package. Being a little late is excusable, we all get too busy too fast sometimes, but not sending it out at all is a complete destruction of trust.
I hope we can make this community as fun and awesome together as when
moons_creations
was the maintainer. Best of wishes to you all,
Rita
Due to the unfortunate stepping down of
Current Mood:

busy
chiboa_na_daima
shortly after Christmas. My kids just had to help me open everything!
This is the box before I dug into it! Those popcorn things are still all over my apartment...they don't go away!!
She drew me an awesome picture of Bloo and Cheese! My kids took it and it now hangs in their bedroom! They loved it!
Purple fuzzy stocking! So awesome!
All the goodies from inside the stocking! Chocolate Tigger, Pooh, Piglet, and Eeyores...these were delicious!!! Cardboard Princesses to color, totally cool socks ( i so almost bought those same socks for my daughter at Christmas!) , and a really awesome purple and black scarf! I love this thing! And the 12 teas of Christmas...I've only tried the cranberry but i love all of them! they sound so yummy!
And, last, but CERTAINLY not least....my all time favorite part! The Chicago Cubs ornament! I squealed so loud my husband thought something was wrong with one of the kids! I adore this ornament!!! Thank you sooo sooo sooo much!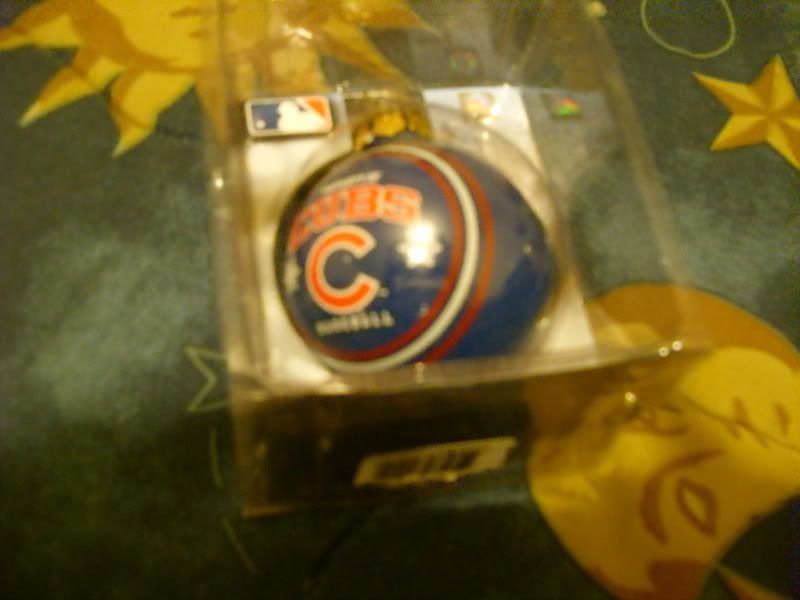 My son was jumping on the bed so every time i tried to take the picture, it turned out blurry! Thank you so much for this totally awesome package! It really made my day!
I got a totally awesome package from
Current Mood:

sleepy